MP Testing Facilities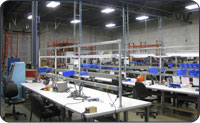 MP maintains a US based, internationally accredited, full service testing and analysis center to address the full scope of your test and analysis requirements. Our testing technicians have over 60 years of experience testing electrical products demanding strict adherence to agency specifications and customer requirements. Mechanical Product's testing facilities are UL approved and qualified to perform a variety of electrical and environmental testing.
Contact Us to schedule your testing needs!
Testing Equipment
Environmental Chamber
Humidity Chamber
Salt Spray Bath
Vibration Testing
Standards Qualification
X-Ray
Altitude Chamber

Electrical Testing
Temperature Ramp Testing
G-Force Testing
Endurance Cycling
Optical Comparator
Fluoroscope
Vacuum Chamber
Agency Testing
UL: Underwriter Laboratories
CSA: Canadian Standards Association
SAE: Society of Automotive Engineers
ABYC: American Boat & Yacht Council

MIL-STD: Military Standards
CCC: China Compulsory Certification
IEC: International Electrotechnical Commission