Mechanical Products (MP) announces the launch of an all-new online product configurator and 3D modeling tool. This tool is designed to help customers select and specify MP's line of thermal circuit breakers into their new product designs. The configurator, built by CADENAS PARTSolutions, provides customers the ability to easily design in MP's circuit protection solutions. This on-demand, online 3D modeling capability makes the jobs of engineers easier while providing an industry leading digital customer experience.
PARTSolutions gives MP the ability to instantly provide the digital data our customers need. Now engineers can configure circuit protection products based on their specifications, and then download the 3D model within their design.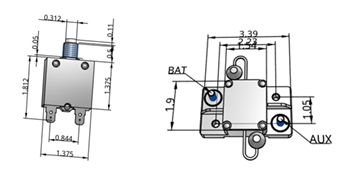 With more than 150 CAD and imaging formats available, CADENAS PARTSolutions has one of the widest selections in the industry with native outputs to all major CAD systems, include Autodesk®, AutoCAD®, Autodesk Inventor®, SolidWorks®, Solid Edge, PTC Wildfire and CREO, Siemens NX, CATIATM and more.
Previously, customers had to call or email MP customer support to obtain 2D drawings and 3D models. Now customers have an on-demand engineering service for configuring and downloading this data, as well as generate part specific datasheets.
The launch will help MP reach a larger audience and broaden the general market awareness for its circuit protection devices.
For help or more information email: helpme@mechprod.com